THE CEDAR RAPIDS STAMP CLUB
Established in 1931
PO Box 2554, Cedar Rapids, IA 52406-2554
cdahle8@gmail.com - (319) 693-6020
OUR NEXT MEETING:
Monday, November 7 at 7 PM
1st Presbyterian Church, 802 12th St, Marion, Iowa
---

In person, with masks, according to church protocols.



Stamp Bourse

Sunday, October 30, 2022 - 9 AM - 3 PM
Hiawatha Community Center
101 Emmons Street, Hiawatha, Iowa
Meet some regional dealers, and chat with other collectors!
Your chance to acquire more stamps and supplies.
Free Admission
Please help set up from 7-9 AM, and teardown from 3-4 PM
MEETINGS: First Monday every month, 7 PM
1st Presbyterian Church, 802 12th St, Marion, Iowa

with the followIng exceptions:
January - Meet 2nd Monday if the 1st one is New Year's Day
June - Our Annual Picnic at a local park, 6 PM
July - Meet 2nd Monday if the 1st one is the 4th of July
September - Meets on 2nd Monday
December - Our Holiday banquet at a local restaurant, 6 PM
CLUB OFFICERS

President - Mike Taylor
Vice Pres. - Steve Kossayian
Secretary - Chris Dahle
Treasurer - Jon White
Paste-Up Editor - Chris Dahle
Dealer Liaison - Kim Persons
Webmaster - Chris Dahle
REGIONAL STAMP DEALERS

John's Stamp Den - PO Box 204, Washington, IL 61571
(309) 444-8247
E-Z Ed's Stamps - ezedus@mchsi.com
Northstar Stamps - Kevin Lunn, Proprietor - (515) 836-8202 kevinlunn@reagan.com
The Stamp Person - Kim Persons, Proprietor thestampperson@yahoo.com
Al's Stamps And Collectibles - Al Lemke, Proprietor
(712) 262-4940 - alanlemke@smunet.net
Linda & Leen's Stamp Basket - Linda & Leen Intveld, Proprietors - (603) 554-4060 - lmintveld@yahoo.com
W.H Burdick Stamps & Coins - PO Box 441, Mountain Home, AR 72654 - (870) 425-7799 - Dealer # 1309
IOWA'S STAMPS
For a look at some of the many stamps
featuring Iowa and Iowans, click
here!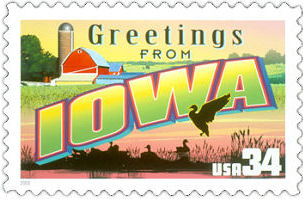 WHO ARE WE?


We are collectors from around Eastern Iowa
who collect for different reasons:
* to learn about people, history and geography.
* to study the lands of our ancestors.
* for investment purposes.
* by specific countries, or time periods.
* or for topics of interest.

Our meetings offer opportunities:
* to keep up with news of the hobby.
* to acquire new stamps.
* to learn methods of collecting and display.

Visit us soon. Attend a meeting or two for free.
Dues are only $15 per year, and you will get
our monthly newsletter, "The Paste-Up".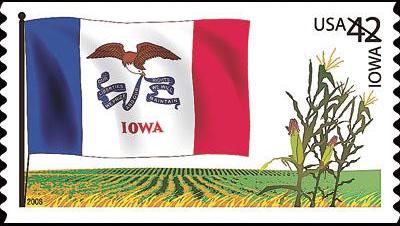 Lovely Counter